CONNECTICUT BLUE STAR MOTHERS





CT Chapter One - Blue Star Mothers Of America, Inc.
"We, the mothers of members of the Armed Forces of the United States of America, do unite to establish a permanent organization. Desiring to continue to be of service to our nation, we dedicate our time, and lives if necessary, to the perpetuation of democratic government, and are proud and honored that our sons and daughters have been chosen to serve their country." (Preamble)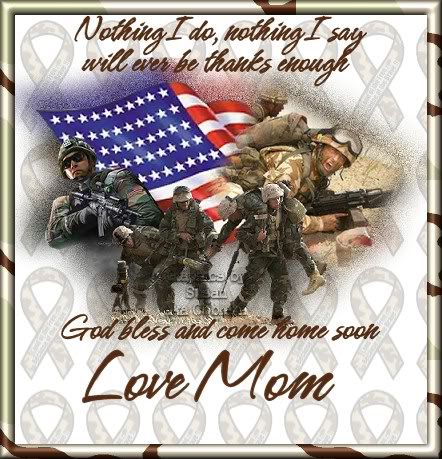 BLUE STAR MOTHERS CONSTITUTION: "Americanism is an unfailing love of country; loyalty to its institutions and ideals; eagerness to defend it against all enemies; undivided allegiance to the flag, and a desire to secure the blessings of liberty to ourselves and our posterity."
CLICK ANY OF THE FOLLOWING LINKS TO SEE WHAT THE CONNECTICUT BLUE STAR MOTHERS ARE DOING!!
PLEASE FEEL FREE TO ADD YOUR APPROPRIATELY RELATED POSTS TO ANY OF THE ABOVE MESSAGE BOARDS!!
Loyalty Oath: "I do solemnly swear that I am not a Communist or Fascist. I do not advocate nor am I a member of any organization that advocates the overthrow of the Government of the United States by force or violence or other unconstitutional means or seeking by force or violence to deny any person their rights under the Constitution of the United States.
I do further swear that I will not so advocate nor will I become a member of such an organization during the period I am a member of the Blue Star Mothers of America, Inc. I will support and defend the constitution of the United States against all enemies foreign or domestic; that I will bear true faith and allegiance to the same; that I sign this oath freely, without any mental reservation or purpose of evasion, so help me, God."
CONNECTICUT BLUE STAR MOTHERS
Copyright © 2006 All Rights Reserved
The Blue Star Mothers of America, Inc. is a non-partisan, non-political organization. We do not support any political candidate nor do we endorse any religious organization. The military represents all aspects of America as does our organization. We are here to support our troops, our veterans, one another, and the cause of patriotism Please adhere to our purpose when posting to this site; do not use it for any personal platform. DO NOT post anything that does not comply with Operational Security measures! Also we must adhere to copyright laws when posting. Linking to our website does not represent an endorsement on the part of Connecticut Blue Star Mothers or Blue Star Mothers of America, Inc.