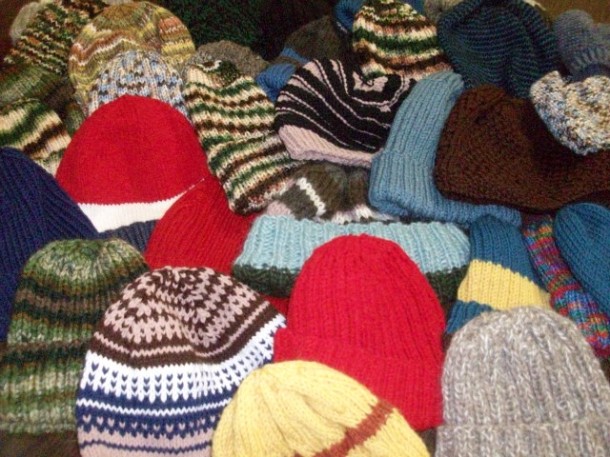 As part of our ongoing support to the veterans we serve, we have undertaken a project to hand make each one attending the day program at the Newington VA and each resident at the Newington and West Haven VA facilities, a knit or crochet hat as part of our Holiday Cheer Program. We anticipate needing approximately 350 hand made hats by November!!
As these hats are for veterans and not active duty service personel, there is no restriction on the color or design for them. The only "restriction" is that all of the veterans at this time are men, so that needs to be kept in mind when choosing yarn and patterns.
A picture of some of the hats that we have completed thus far is at the top of this page. There are a few patterns for hats below which are available as suggestions. Or, if you have a pattern that is your favorite, feel free to use it.
We are presently setting up a 'Comfort and Care' website where you will be able to find pictures and patterns for all of our hats (along with the other hand made items we offer for comfort and care). All patterns contained here and therin are offered free from web sites; some of which indicate that the patterns are not to be used for resale items, but can be use for charitable donations.
The link to the Comfort and Care website will be posted here as soon as it is ready for viewing. Meanwhile, please contact our Comfort and Care Officer, Nancy, at email: rrqt@aol.com if you have any questions.
Many of the hat patterns have quite a history to them. Our Comfort and Care Officer has been collect the pattern and the historical information on them when available. She has printed out all of this information and it is available to anyone that would like to look at it or copy it during our monthly Connecticut Blue Star Mother meetings.
Meeting time and information can be found on the 'calendar' page of this website. Please come and work on this project with us. You do not need to be a member of the Chapter to attend our meetings or events. Bring your knitting and share your ideas with us as we meet.
If you can not make it to meetings but would like to make the hats for our veterans, please let Nancy know and she will make arrangements to gather your hats.
THANK YOU SO VERY MUCH!!!!

CONNECTICUT BLUE STAR MOTHERS
Copyright © 2006-2011 All Rights Reserved
The Blue Star Mothers of America, Inc. is a non-partisan, non-political organization. We do not support any political candidate nor do we endorse any religious organization. The military represents all aspects of America as does our organization. We are here to support our troops, our veterans, one another, and the cause of patriotism. Linking to our website does not represent an endorsement on the part of Connecticut Blue Star Mothers or Blue Star Mothers of America, Inc.